🚗Solar aircraft car decoration🚗
This aircraft model uses solar energy as an energy source to drive the spiral rotation, and the motion effect is beautiful and novel, which increases interaction with the driver.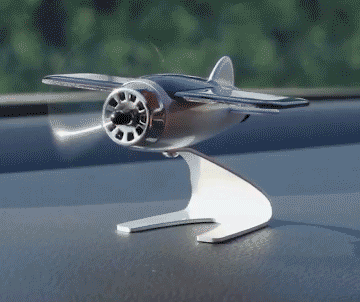 ✈Features:
High temperature resistance, no fear of sunlight, no deformation, no fading, the stronger the sun, the faster the aircraft turns
Made of high quality alloy, no fear of direct sunlight, great car decoration.
Solar powered, converts sunlight into electrical energy, keeps the propellers going, without recharging or batteries.
Simple, fashionable and beautiful, shows different tastes of you.
Precision propellers, noiseless rotation, disturb neither the driving nor the conversation with friends.
✈Specification:
Size: 9.5 cm * 7.5 cm * 5 cm
Color: black, silver, red
✈Product includes:
1 * Solar Airplane Car Decoration