Mary's hummingbird feeder has been making quality bird feeders since 1987 and they are still the best hummingbird water feeder among all bird feeders


30 Hexagonal raised diamond geometry of ports with over 200 facets to catch sunlight that hummingbirds can easily locate the nectar like they do when they look into a flower.
Mary's Feeders allows you to watch hummingbirds using their beaks and tongues within the tube so you can actually see the feeding process happen. Did you know a hummingbird's tongue can reach almost an inch past its beak?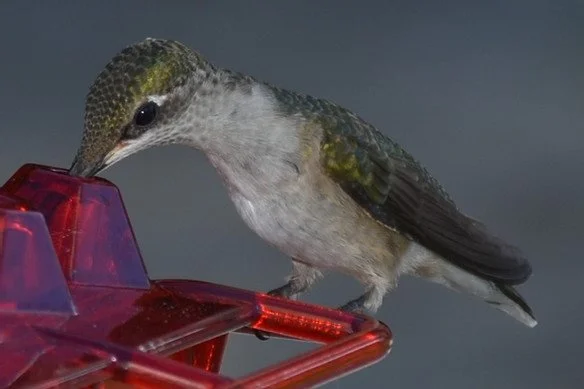 Built-in Ant Moat For Mary's Sweety Hummingbird Feeder
By using hexagonal raised diamond geometry of ports we are able to prevent bees from taking over the hummingbird feeder.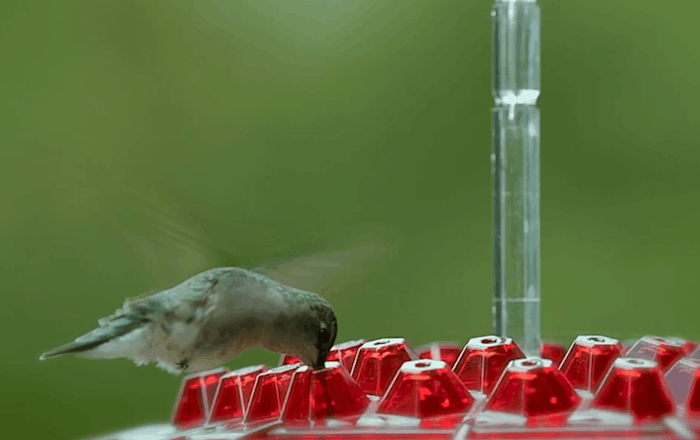 Each feeder has a 12 ounce capacity for Nectar

Red lid is 8 inches by 8 inches.  Nectar bowl is (6 inches x 6 inches)

30 feeding ports (like real flowers)

to catch sunlight and sparkle so hummingbirds can easily see it from far away

Unique filling system (simply pour sugar and water into correct levels) no outside measuring,

 Easy outside filling (simply lift the lid and pour nectar in) if you prefer to fill with a pitcher of nectar

Heavy-duty construction to last a lifetime (for durability and toughness)

Large hanger hook diameter for easy hanging anywhere

Dishwasher safe

Raised feeding ports prevent Rain from running into the bowl

Feedback from hummingbird feeders

"I was very pleased with the results and have had more hummingbirds than ever visit my feeder."

"Your feeders are positively the best! I have been feeding hummingbirds for many years and still have other types of feeders hanging – but the hummingbirds only feed from your feeder!"

"This feeder is unquestionably the best hummingbird feeder I have owned. Hummers were coming to it when they would avoid my other feeders."

We designed this feeder to hold 12 oz of nectar (sugar water). Mary's Feeders hummingbird feeders are handmade in Wisconsin from impact resistant plastics and they come with instructions for making your own nectar. Pair this feeder with our SCH-61 Suction Cup Bracket for up close, 360 degree viewing. Expect a lot of activity!