THE ONE STEP SOLUTION FOR A FLAWLESS CLOSET
Our 5-In-1 pant hangers have a collapsible design, which effectively frees up more space for storing clothes in your closet.
THE BENEFITS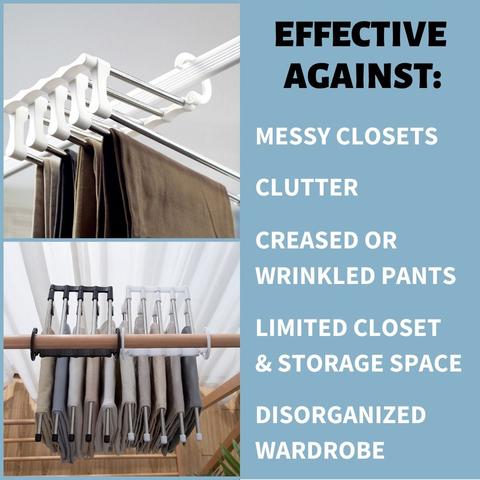 ✔ KEEP ORGANIZED - Our space-saving Magic Hangers are the best way to organize and declutter your closet and wardrobe.

✔ FREE UP SPACE - Fit up to 5x more clothes in your closet, allowing you to maximize your closet space. 

✔ BROWSE WITH EASE - Our collapsible design lets you display your wardrobe neatly and conveniently, so you can browse through your entire wardrobe in seconds.

✔ CREASE AND WRINKLE-FREE - Our Magic Hangers are designed not to crease your pants. They keep your pants wrinkle-free and ready to wear! 
HOW DOES IT WORK?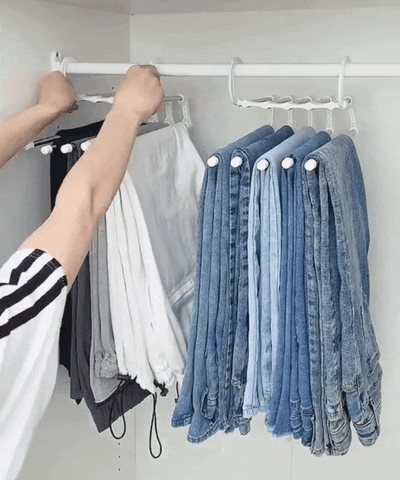 Traditional hangers waste a lot of space by not using the available vertical space within your closet to its full capacity.
Our multi-functional hangers are built with a collapsible design that uses the vertical space in your closet more effectively, allowing you to fit more in your closet while simultaneously reducing clutter.
After switching to our pant hangers, you'll notice that you're no longer digging through your closet to find one pair of pants, and instead you can browse your wardrobe with ease.
WHO IS IT FOR?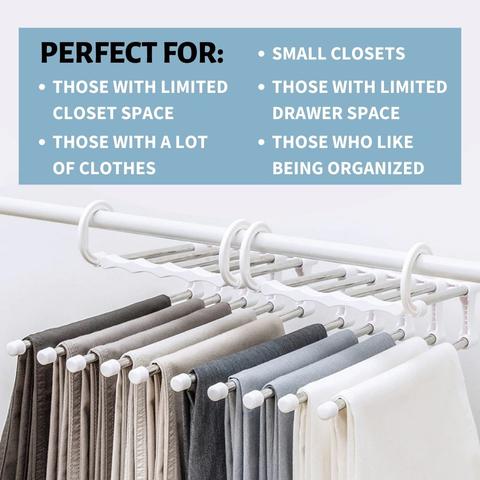 If you have a lot of clothes, limited closet or drawer space, or just like being organized, then Magic Hangers are perfect for you.
They're designed to help you free up closet space and keep a more organized wardrobe, so you can browse your clothes with ease.
It's the perfect solution for anyone looking for additional closet space and, in turn, a more practical closet.
 FAQ
Q: Will my pants slide off the hanger?
A: No! Our anti-slip caps prevent your trousers from slipping off our hangers.
Q: Who's the Magic Hanger for?
A: If you have lots of clothes, limited closet & drawer space or just like to be organized, then this collapsable hanger is for you! If you're constantly searching for your clothes, our hangers might be exactly what you need.
Q: Can I hang jeans and heavy pants on them?
A: Our Magic Hanger can hold up to 5 pairs of pants including jeans, sweatpants, leggings, ect..
Q: What if I don't like it?
A: We offer a 30 day satisfaction guarantee. If you don't like our products for any reason, we offer hassle-free returns within 30 days of delivery.
Q: Will the hangers leave my pants creased?
A: Our hangers are designed to keep your pants crease and wrinkle-free, so your pants are always ready to wear.
Q: Will the hangers only work on pants?
A: Our 5-in-1 Pant Hangers are designed specifically for pants, but our customers have found that they also work with shorts, scarves, skirts, belts, bracelets and even garden flags!